Behind Every Fab Bag is a Bad-Ass Woman: Meet our MOXiE muse - Jenna Lyons
It's no secret that here at LOVE & MOXiE we strive for both our business and our handmade products to embody joy, a fierce sense of fabulousness and, well, moxie!
It goes without saying to personify all of these wonderful things, you're more than likely going to need a little inspiration along the way. We proudly pull inspiration from an array of different areas— from designers, creative directors and our favorite runway pieces to cities, music, patterns, color. . . and last but certainly not least — badass women who embody the true definition of moxie.
Without a doubt, we could pump out a list of these women running longer than Grey's Anatomy has been airing. However, for times sake, we've narrowed down our series to include our top five favorite ladies and all the subpurbness they encapsulate. Through their work, books, programs, products, life advice, and everything in between, they constantly carry themselves with overwhelming confidence, a sense of humor and the ability to constantly overcome adversity.

With the perfect cocktail of creativity, admiration, and just enough caffeine, we've developed five one-of-a-kind handbags for each of our MOXiE muses not only in celebration of these five lovely ladies, but our 7th birthday as a small business! As my mother Renée is none other than the original MOXiE muse herself, we were thrilled to incorporate her spunky little self throughout this campaign as she embodies each of our muses.

All in all, we're over the moon grateful for their outspoken charisma that sparks inspiration in us on the daily, and we hope these bags do the same for you (and maybe them), too!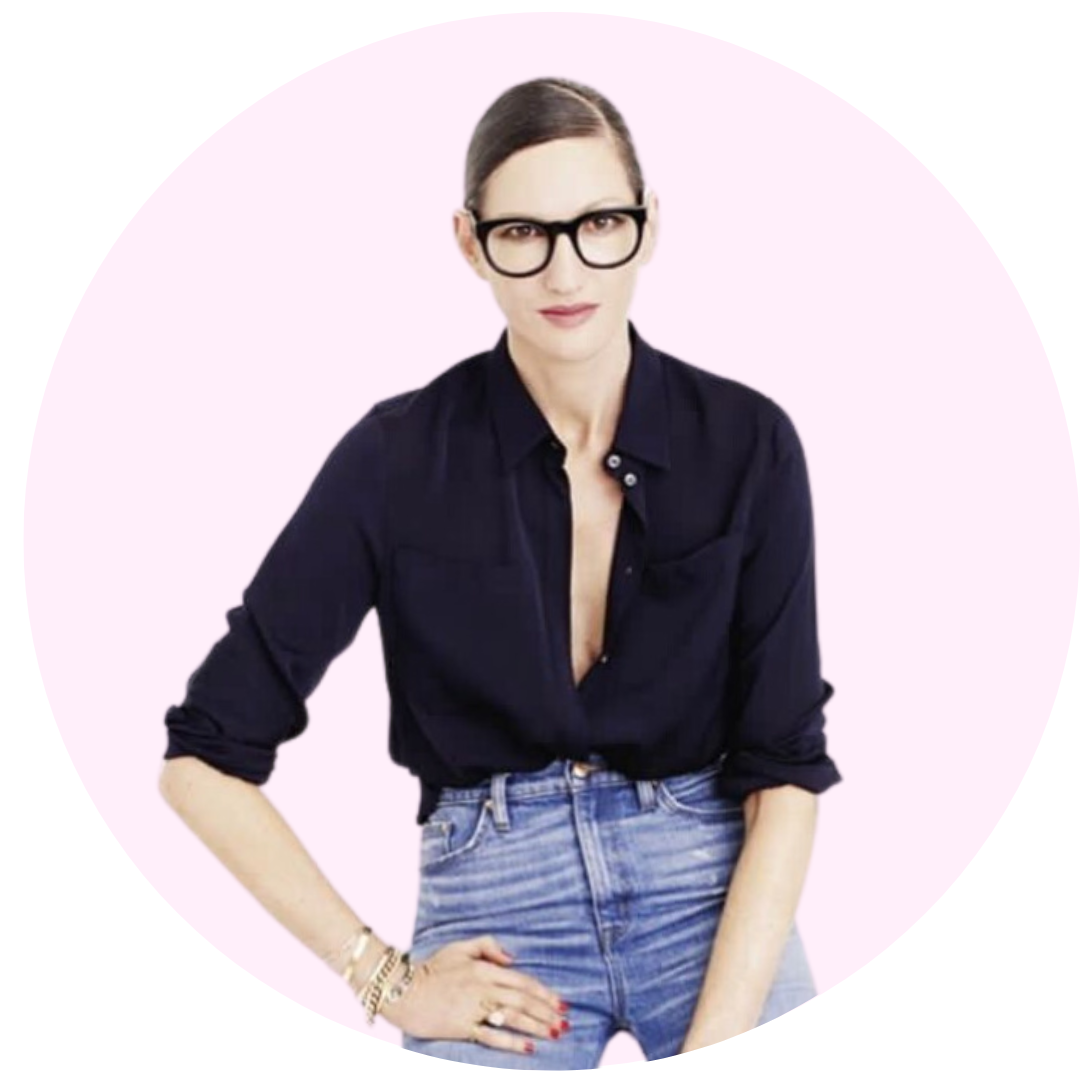 JENNA LYONS
As the former executive creative director and president of J.Crew, Jenna Lyons quickly became the "woman who dresses America" for good reason. Sharing our love of sequins, camouflage, and love for sartorial flair, the bulk of inspiration drawn from her groundbreaking designs and personal sense of style is simply undeniable.
Born with the rare genetic disorder of incontinentia pigmenti, of which can vastly effect skin, teeth, and hair, Jenna has noted she struggled with being picked on while growing up.
"It made me introverted, but it was also the reason I loved fashion, because it can change who you are and how you feel, and that can be magical."
Landing her first job at J.Crew in the early 90's at the ripe age of 21, Jenna found herself Vice President of Woman's Design by 2003. It's no secret that Jenna almost single-handedly re-invented the brand's iconic schtick into what it's known for today— the oh-so-chic juxtaposition of day-to-night favorites; from tailored collars and denim to pink taffeta and cargo pockets.
Aside from her innovative sense of style that heavily shifted the world of fashion as we know it, we admire that Jenna is outspoken, driven, and holds a down-to-earth, approachable persona that aims to inspire others to create and be true to themselves, even if it goes against the grain. We could think of a million and one ways to describe Jenna and her work, but "iconic" seems to sum her up pretty nicely!
"I like things to feel a touch unfinished; sweatpants with heels, or tennis shoes with a trouser. Those things are important."
Having loads of inspo to draw from, we knew we'd have a blast designing this bag from the get-go, beginning with a sleek baguette silhouette. We were equally as sure that a bag embodying Jenna simply does not exist without some sort of cargo-camo element, calling for none other than a camouflage exterior and a handy cargo pocket detail on the backside— all constructed from an upcycled army jacket.
In need of our day-to-night contrast and J.Crew-esc genius, the addition of gold sequins from a vintage 1960's dress and a pink and navy gusset created from an upcycled tie pulled this piece together immensely. Emulating the chunky, acrylic jewelry and tortoiseshell fever previously flooding J.Crew's shelves and catalogues, we created this asymmetrical bag handle from a vintage necklace composed of bulky, tortoiseshell links and gold hardware.
Admittedly, one of our favorite details on this bag has got to be the lining. As Jenna herself is none other than a New York City icon, we were over the moon about the idea of lining this baguette clutch with this fabulous, fun print drenched in NYC favorites. Even better? This print comes from a beloved vintage J.Crew t-shirt. Lastly, we had to include denim (laser engraved celebrating her as our MOXiE muse), one of Jenna's staples which she is incredibly deft at styling for everyday or for a red carpet event.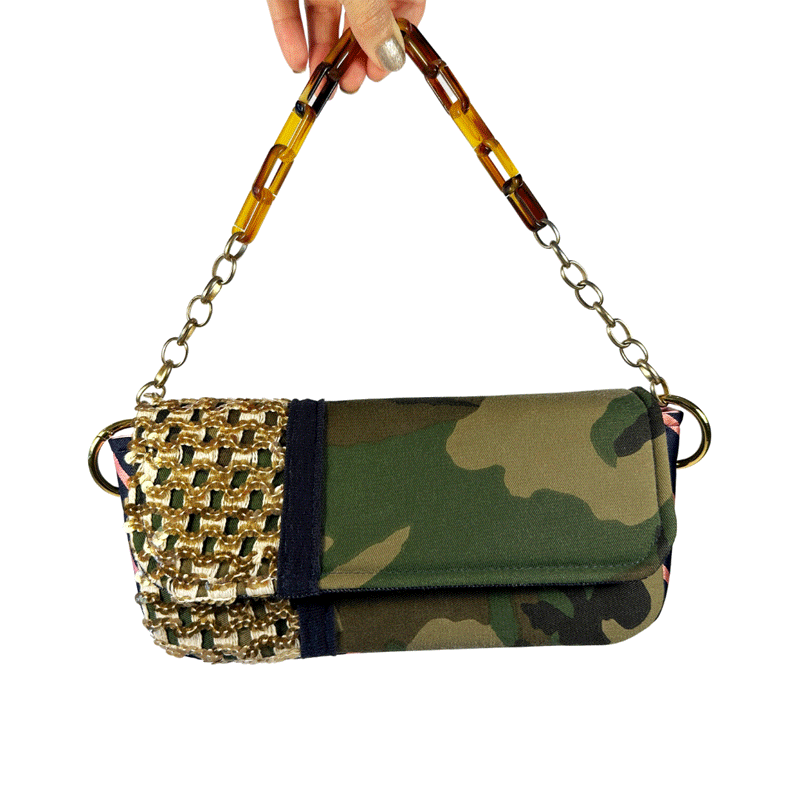 Designing and making this bag brought us so much joy and undoubtedly a refreshed sense of creative inspiration. Even with her days at J.Crew behind her, we're still inspired by all her new endeavors (can we have another season of Stylish with Jenna Lyons, puh-lease!?) and are always on the lookout for more Jenna, whether that be through her interior design work, T.V. appearances, and her new beauty brand, LoveSeen. Her booming sense of individuality and personal style has played a large role in so much of what we do here at LOVE & MOXiE, and we can't wait to see what she does (and wears) next!
"Only do what you love, only pursue what feels like you . . . Amazing things happen when you're having fun and doing something you love."
Jenna was a tad wrapped up with some Real Housewives drama to make our photo shoot. . . but we think our original MOXiE muse got the job done just right!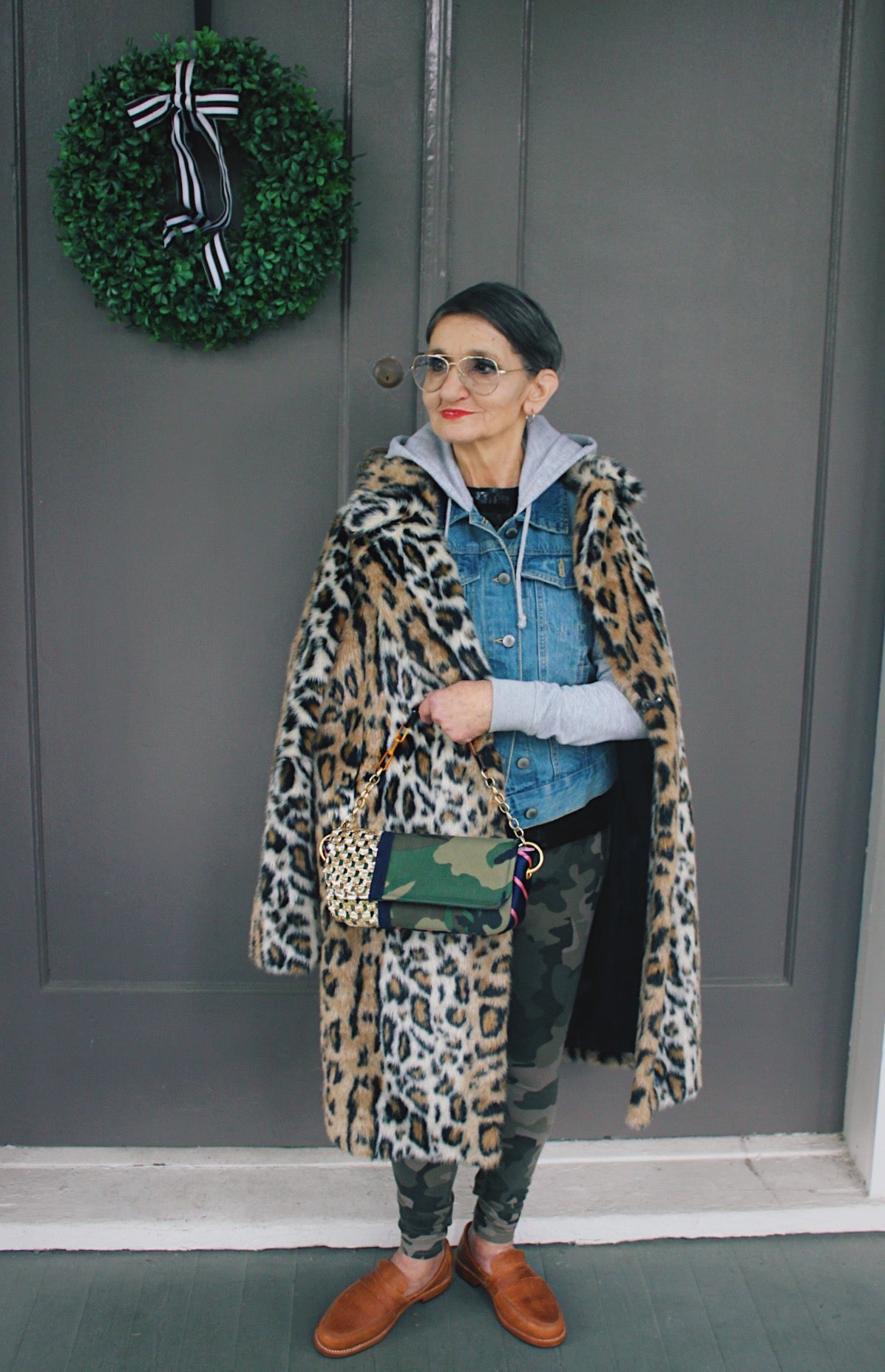 Although we hate to sound like a broken record, we truly cannot express our gratitude enough to each and every one of you as we wrap up our seventh year in business here at LOVE & MOXiE. When my mother was diagnosed with Alzheimer's, we started this business in hopes to both raise awareness and truly live life to the fullest as we began to navigate this together.
While being a small business in this day and age isn't easy — especially while tackling the occasional medical hurdle or whatever Mercury in retrograde throws our way — we're still kickin' thanks to your support! We're so thankful for this journey and all it's taught us — that you can truly accomplish anything you set your mind to, pivoting and starting over at any age is no set back, and with the right concoction of grace, style, humor, and a dash of moxie, you can get through anything. We equally appreciate that each of our muses have solidified these lessons along the way and keep us inspired.

Looking back, we're thrilled to have been able to donate over $6,000 toward Alzheimer's charities and grow personal relationships with our customers through custom pieces. There is truly no better feeling than being able to give somebody's sentimental piece a second life. All the more, we're excited for all the fab things to come and hope you'll stick along for the ride, we couldn't do it without YOU!
Sign-up below to be notified of our next MOXiE muse drop! You're not gonna wanna miss it! And tap the buttom to catch-up on all our inspiring muses.

Cheers! Danielle & Renée
"Life is a banquet, and most poor suckers are starving to death!"
… life is short, live with moxie!